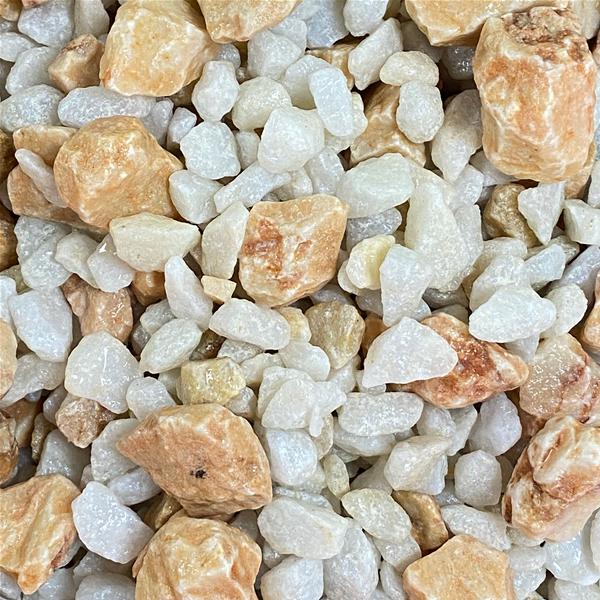 Description
Peach Bellini 10- 20mm Gravel is a brand new addition to the Gravel Master range. This stunning mix of Polar White and Peaches is extremely hard wearing due to the marble properties of the chippings. The beautiful blend of sparkling rustic gold and shimmery white make a fantastic modern addition to any garden. Due to the raw material properties, once wet you will find subtle sparkles within the gravel. It is exceptionally versatile thus suitable for any garden border or driveway.
Peach Bellini 10-20mm
Bag Size: Approx 850Kg Bulk Bags and 20kg sealed Bags
Size: 10-20mm
Uses: General Landscaping, Aquatics, Pathways and Borders
Colour:Gold, Buff, Apricot and White
Shape: Angular
Specification: BS EN 1260
Peache Bellini Gravel Colour and Shape
The angular shape allows the gravel to settle and make the garden look extremely tidy. The Peach Bellini is a Gold Buff colour with hints of Apricot and White which shine in the sunlight. This Gravel is perfect for all seasons and brightens up any garden.
Availability on Peach Bellini
We can usually accommodate a next day delivery service if the product is ordered before 1pm for an additional cost. Normal delivery is 2-3 working days from when the order is placed. The delivery is also subject to weather conditions and stock levels. All supplied in Bulk Bags (850KG) or Sealed bags (20KG). We also supply a sample which is a small poly bag sent via first class post.
Loose Load Deliveries
For a competitive loose load delivery price (bulk deliveries) for large areas please contact our sales team on 03300585068.
Loose load orders


T:0330 058 5068

Loose tipped 10, 20 and 30 tonnes