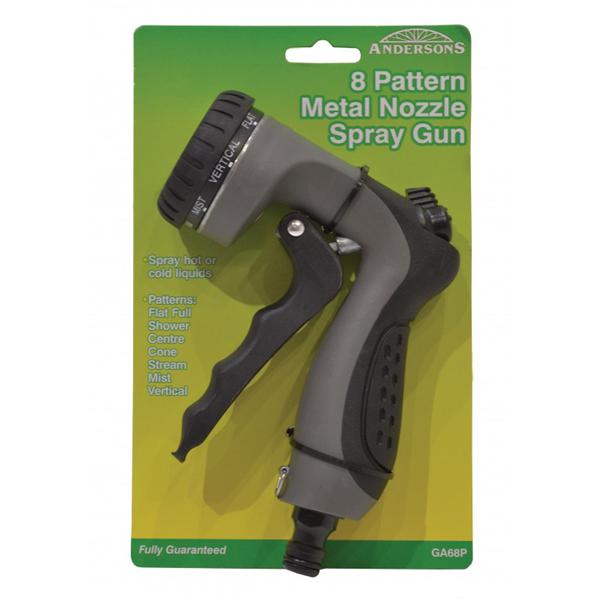 So simple to use and delivery is fast and efficient!
The different settings are fantastic! I would 100% recommend purchasing this product.
Great price for such a brilliant product.
The handle is comfy and the different patterns make gardening easy!
It was really easy to attach to my hose and was comfortable to hold.
8 Pattern Nozzle
From £10.00
Description
The 8 Pattern Metal Nozzle is perfect for all gardeners! Simply attach the nozzle to your hose to water your plants, crops and lawn with ease. It offers a variety of patterns for spraying hot or cold liquids. It has male to female connection and a soft grip handle.
8 Pattern Metal Nozzle
Bag Quantity: 1 Nozzle
Size: 1/2" BSP
Uses: Attaching to your hose
Colour: Grey
Patterns: Flat, full, shower, centre, cone, stream, mist and vertical

8 Pattern Metal Nozzle Colour and Shape
This metal nozzle is grey in colour and provides 8 wonderful patterns for spraying liquids, including: flat, full, shower, centre, cone, stream, mist and vertical.
Availability on Cotswold Chippings
We can usually accommodate a next day delivery service if the product is ordered before 1pm for an additional cost. Normal delivery is 2-3 working days from when the order is placed. The delivery is also subject to weather conditions and stock levels. This Nozzle is supplied in single packs.
Loose load orders


T:0330 058 5068

Loose tipped 10, 20 and 30 tonnes