The History of Topiary
Topiary has been used for many years in various European gardening styles from Roman time's right through to modern day. With the introduction of our new Topiary range we were intrigued to find out a little more about the history of Topiary.  In this guide we give you an insight into the history of Topiary gardening. From standard box balls to spiral buxus, topiary is a striking creative garden design that can inspire many people to create their own Topiary style.
What is Topiary?
Topiary is the ancient art of clipping a wide range of evergreen plants into different styles and designs. The word Topiary is Latin for landscape gardener. In the early days of Topiary Gardens, landscape gardeners were the ones that were caring and maintaining the plants therefore they became referred to as topiaries. These types of plants are often found in formal structured garden designs however in the modern day are now being incorporated into home garden designs on a smaller scale. Boxwood also known as Buxus Sempervines is the most common type of topiary as it can easily be shaped and trained into a variety of different shapes and designs. Boxwood plants also offer stunning glossy green leaves.
Topiary Through The Ages:
The origin of Topiary is still uncertain however early pictures of Topiary have been discovered on the walls of ancient Roman tombs. There is also clear evidence to show that the ancient Chinese were involved in Topiary.  As time went on the Japanese became involved in Topiary however they incorporated their own influences and created stylish unique designs. In ancient Europe the Monks were responsible for keeping the art of Topiary alive through the development of Knot gardens. The Victorians also incorporated Topiary into their luxurious garden designs.
Different Types of Topiary:
When we mention Topiary the first thing that came into our mind was boxwood plants shaped in balls, spirals, cones and even animal designs. We were interested to find out that hedges are also considered types of topiaries. In ancient Europe there were many large garden designs full of intricate clipped hedges arranged in various patterns and styles, these were referred to as parterres. These gardens often included flowers to complement the topiary work. Knot gardens are another type of topiary, and contain a similar deigns to the parterres however would mostly comprise of herbs. Potted topiary was also very popular and was used to flank doorways and pathways similar to how we use them nowadays.
Traditional Maintenance:
Traditionally all topiary work was done by hand. There was strictly no use of hedge trimmers or pruners which nowadays help speed up the process. Garden shears and clippers were commonly used to maintain the design of all topiary work. In Roman times the topiary work would have been carried out by slaves.  As time progressed affluent individuals may have hired gardeners to carry out topiary work. The majority of European topiary gardens were created for decorative purposes only. However if you were to have a topiary garden this would have been portrayed as a sign of wealth. 
Topiary Today:
Today many individuals are using inspiration form Topiary work in their own garden designs. Potted topiary is an easy way for you to incorporate the influences of topiary into you own garden landscape. It also offers you the flexibility to locate the plants wherever you require them in your home. We have recently introduced our new range of Topiary trees and invite you to browse through our full range.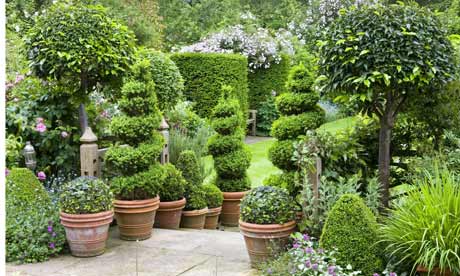 We hope this article has provided you with a deeper insight into the history of topiary work. If you have any questions or would like further advice on any of our Topiary plants please call us on 0800 907 85 90. Alternatively browse our inspirational Topiary interest board.