Delivery
All Internet Deliveries are made via Tail-Lift Vehicles, as shown below. We do not use Cranes or Hi-Abs
All orders are delivered on wooden pallets by a lorry with tail lift off load. We strive to make our deliveries as eco-friendly as possible and build our loads efficiently and effectively within each area. This means your order may arrive on 7.5, 18 or 26 tonne vehicle with a tail-lift and a manual pump trolley.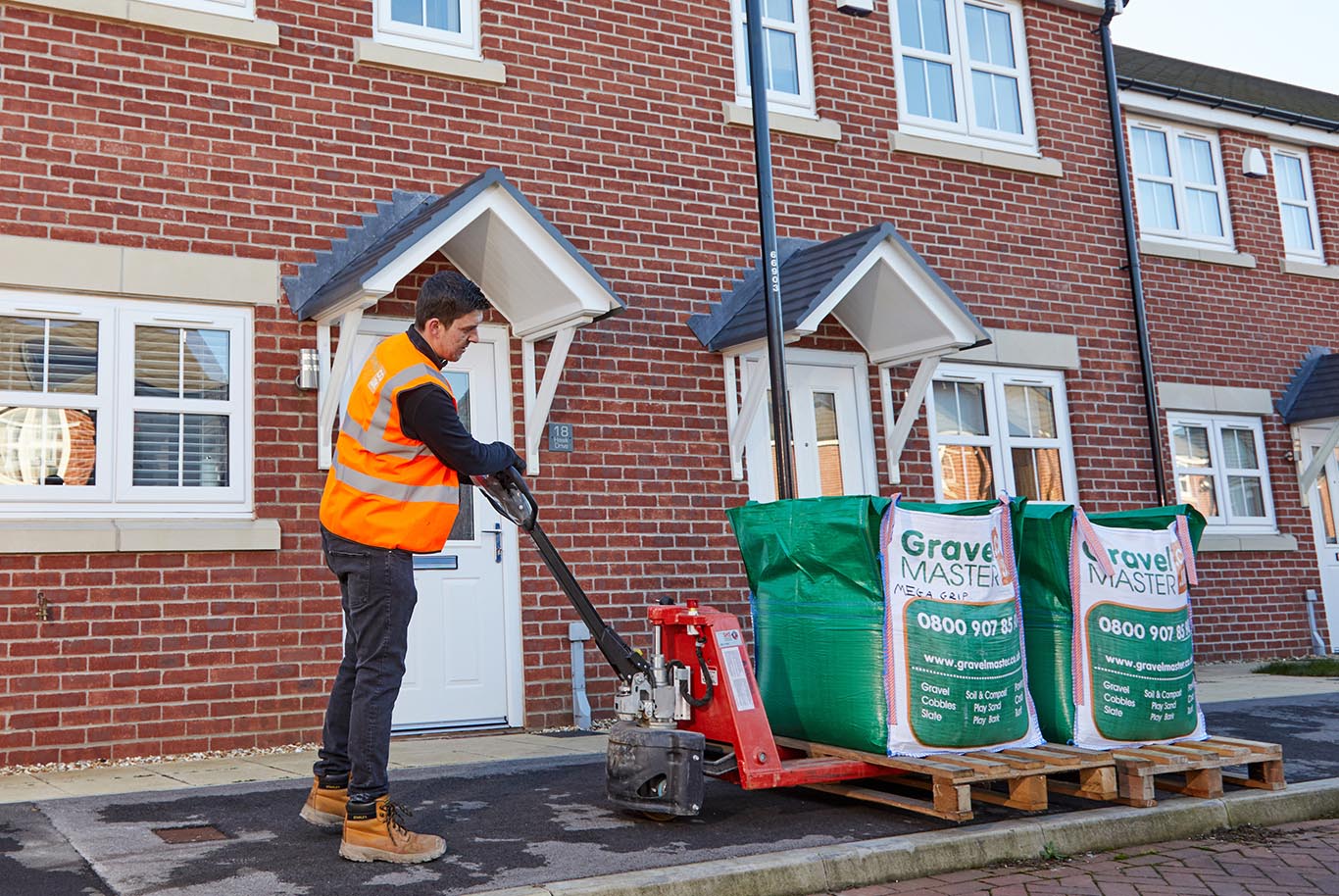 Checklist before placing your order
A minimum width of 3 metres is required for vehicle access
Deliveries cannot be left on any slopes or hills
Unfortunately delivery pump trucks cannot leave goods on any soft or loose ground, such as grass or gravel
Delivery access free of any obstacles such as low cables or over hanging trees
As a minimum deliveries will be left kerbside
Please note we cannot deliver to private roads or A roads

How do we deliver to you?
We aim to make all of our deliveries on the desired delivery date, however please note that all deliveries are subject to weather conditions and stock. Our friendly Customer Experience Team are here to assist you with any queries relating to delivery and will be happy to help with making amendments.
Delivery Vehicle
We strive to make our deliveries as eco-friendly as possible and build our loads efficiently and effectively within each area. This means your order may arrive on 7.5, 18 or 26 tonne vehicle with a tail-lift and a manual pump trolley. We do not use any cranes or hi-abs for our deliveries. We advise that the vehicles are slightly larger than a standard dustbin lorry, therefore there needs to be an adequate amount of space for the vehicle, with no obstructions or restrictions. If you request for a loose load delivery, an artic or 8 wheeler vehicle will be used.
Offloading your products
All deliveries are on wooden pallets and are manually wheeled onto the delivery surface. We can only guarantee a kerbside delivery. The delivery surface needs to be smooth (such as concrete or tarmac) and flat or level with no incline. Please note that it is completely down to the driver's discretion whether or not he deems the delivery location safe.
Possible Restrictions
The ground must be solid and flat. We cannot deliver onto loose gravel, grass or uneven surfaces. Hanging obstructions such as trees and cables, or parked vehicles may prevent the vehicle from accessing the delivery location. Height restrictions and bridges may pose an issue for delivery vehicles.
Contact
Should you need to contact a member of the Gravel Master team in regards to your delivery, press Option 2 when calling 0330 058 50 68 and we will be happy to help. Further delivery information can be found in our Terms and Conditions.
Delivery Terms
Before placing your order it is key that as the customer you understand and take full responsibility of this important delivery information. Gravelmaster will always endeavour to satisfy your delivery requests however by agreeing to our terms and conditions it is the customers responsibility to ensure that circumstances and conditions are correct for the safe completion of delivery.
It is at the delivery drivers discretion whether or not these circumstances and conditions are deemed to be safe and suitable for the delivery to be completed. We do not accept any liability for the consequences resulting from the positioning of pallets or bulk bags by the delivery driver.
These vehicles need a firm level surface to unload on and you must ensure that the delivery vehicle will have safe access to the unloading point. Deliveries are kerbside and where possible the driver will try and leave your delivery where requested. In some cases we may require a 'drop-kerb' in order to deliver. The lorries use small pump action trolleys to manoeuver the pallet around therefore it is key that the surface is level, these trolleys are designed to be used on concrete, tarmac or block paved areas they are unable to be used on gravel, soil, earth, uneven or loose ground. Please be aware that our lorries cannot deliver onto any form of slope, hill or incline.
Once you have selected your postal area during the quoting/buy process we are able to give you exact cost. Our pallets and bulk bags are non-returnable and we would like to encourage the recycling of all such products.
Gravelmaster is keen to meet its customers individual delivery requests and we will always do our utmost to satisfy these demands. We are happy to deliver without the customer or representative present however we can accept no liability for any damage, theft or deterioration to the items delivered.
The Company will not accept liability for non-delivery, where this is caused by circumstances beyond its control. If the delivery is unable to be completed or refused by the customer, the customer will be responsible for the delivery cost and any cost incurred by Gravelmaster to have the goods returned.
Returns
The customer has the right to cancel any order. However any cancellation must be made prior to dispatch, this means if the product is ordered before 12 O'Clock midday this must be cancelled by 4pm on the same day. If ordered after 12 O'Clock midday, cancellation must be made before 4pm the following day.
Cancellations should be made in writing via email. All cancellations must be sent to Customer Services - customerservices@gravelmaster.co.uk. Please ensure you include your full name, order number and delivery postcode
Customers may return the goods at their own expense to the aforementioned address within 7 working days from the day following the date of delivery or we will collect the goods and charge you the cost of return which will be a minimum of £80.00 per pallet plus any zonal charges.
Returned loads, if cancelled on route, will incur a return delivery charge of £80.00 per pallet, this will be deducted from any refund due.
Where a delivery cannot be made on the due date due to access issues or unforeseen circumstances we will attempt a re-delivery at your request on a specific day for an additional fee. If you have any queries relating to this or any other issue please call us on 0330 058 5068 (option 2)