Thank You Mr Sibley!
A Big Thank You to everyone who entered the Gravelmaster Photo Competition
The number of entries overwhelmed us, totalling 1567! There is a large variety of photographs all of which were excellent so we would like to thank all our customers who sent in photos for participating in our competition. Some of the best photos can be seen on our Facebook page where you can like and share your favourites.
Click here to view
. Our monthly photo competition is open to all Gravelmaster customers; perhaps you would like to share a snapshot of your own garden to share tips and advice with our fellow customers.
After much deliberation in the Gravelmaster HQ we eventually decided on a winner and I'm sure you will all agree Mr Sibley's garden is a very deserving winner.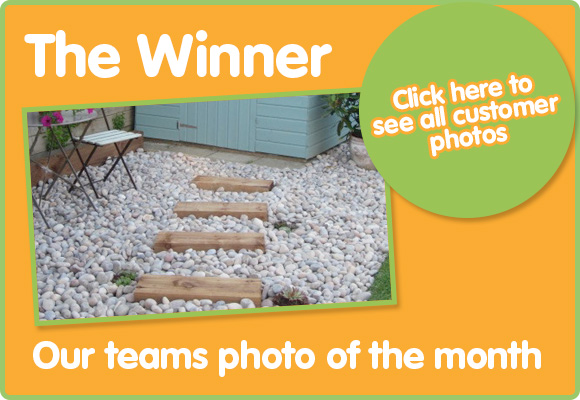 The winning photo included our Scottish Cobbles 30-50mm.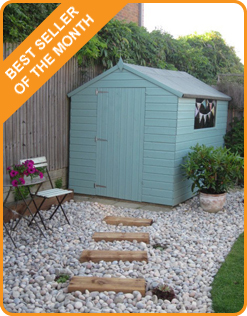 Scottish cobbles are fantastic for water features and can be used to create a rock pool or as Mr Sibley has beautifully done created a beach effect landscape for his garden. Each Scottish Cobble is unique displaying its character through pleasing variations in colour, shape and texture. In a spectrum from sparkling white to jade black, encompassing perfectly smooth spheres through to roughly textured ovals Scottish Cobbles really are an asset to any garden.
Head over to our website where you can view our full range of cobbles and pebbles. You can then read reviews of our products from customers and watch our product videos.
Send in your pictures!
At Gravelmaster we are enthusiastic about garden photography and love nothing more than seeing our products being used by you. So whether you are a keen photographer, a garden enthusiast or both we would love you to share your photographs with us in our Gravelmaster competitions. All the photographs we receive will be posted on our Facebook page where you can go to pick up tips and share ideas with our fellow customers. If you're really lucky you may even be in with a chance of winning one of our fantastic prizes or even have your garden featured on our website like Mr Sibley.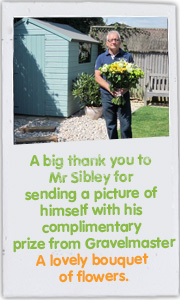 We would like to thank Mr Sibley for sending a picture of himself with his complimentary prize from Gravelmaster; a lovely bouquet of flowers.
Perhaps you have finally perfected your garden, or have a new addition to your garden which you would like to show off. We want to celebrate the wonder and diversity of all our customers' gardens through photography; which may even initiate discussions on our Facebook page where you can discuss ideas and designs with fellow Gravelmaster customers. If you aren't a member of our Facebook community join us now where you can view the latest updates from Gravelmaster. (Make sure you like the page for all product discounts)
Please look out on our website and Facebook page for information on our next competition which will be happening very soon. We have some great prizes to give away and we look forward to seeing all our customers beautiful gardens.