May Gardening Jobs
May Gardening Jobs
May is a very exciting month in the garden, Summer is in our sights as we see the seasons changing again. Depending on your region within the UK you may even begin sowing and planting your bedding. May is a wonderful month that is greener than any other. In this guide we have set out a number of gardening jobs which should be completed in May to ensure you have a successful season when Summer arrives. We can also look forward to the eagerly awaited Chelsea Flower Show towards the middle of May allowing us to enjoy some wonderful floral exhibits.
Protect tender plants:
 It can be very tempting as soon as we see a spot of sunshine to think that our plants will survive in the outdoors. What we don't realise is that in many places within the UK there is still the potential of a frost right up until the end of May, therefore monitoring the weather carefully before transplanting plants that have been indoors is essential.
Once the temperature does start to increase you are safe to begin hardening off your plants. Tomatoes, courgettes squashes and cucumber can all be relocated outdoors. Your soil should have been prepared for planting by now however do make sure it is warm and dry when planting. Hold off if there has been a heavy down poor of rain. If you are growing your tomatoes in pots and you have a greenhouse this is the perfect time to relocate your tomatoes, this will provide them with the warmth they require.
If you have a cold frame it would be wise to acclimatise many plants that hail from warmer climates before planting them outdoors for the season. Plants can suffer from a transplant shock which can considerably slow down their growth. 
Plant Ornamental Grass:
Ornamental grasses like bamboo and other chosen grass is perfect for adding an attractive feature to your garden. If you are looking to create a contemporary garden design these are ideal not only are they graceful they also offer a simplistic, chic look. There are many grass varieties to choose from including lofty elegant grasses there are ideal for rooftop, urban gardens to compact turfs. Follow our simple guide on how to lay turf correctly. These ornamental plants only grow new roots in late Spring and early Summer so May and into the beginning of June is the perfect time to plant. Make sure when planting that you select a spot that will provide the grass with the plenty of sunlight or shade depending on the requirements of the plant. Although these plants require less maintenance ensure you provide them with water when needed.
Plant Salads Leaves:
We are well into the salad season by now but if you haven't already there is still time to begin planting you salad leaves. Head out to your vegetable patch or allotment and begin sowing your salad ingredients. There is nothing more rewarding that harvesting your salad items and enjoying them on a warm Summers day. Begin sowing at the start of the month, with crops like celery, lettuce and beetroot. We would advise you to sow an assortment of salad ingredients every few weeks, meaning you will have set yourself up for an ongoing supply throughout the Summer months. Maintenance is key with salad crops ensuring that you regularly water the plants is essential especially if we have some really hot spells. If you are limited by ground space and wish to plant a wide range of salad chillies and sweet peppers can be planted in pots or containers, this will free up some space in your vegetable patch. Make sure you place these pots in a sunny area like a patio and again water regularly.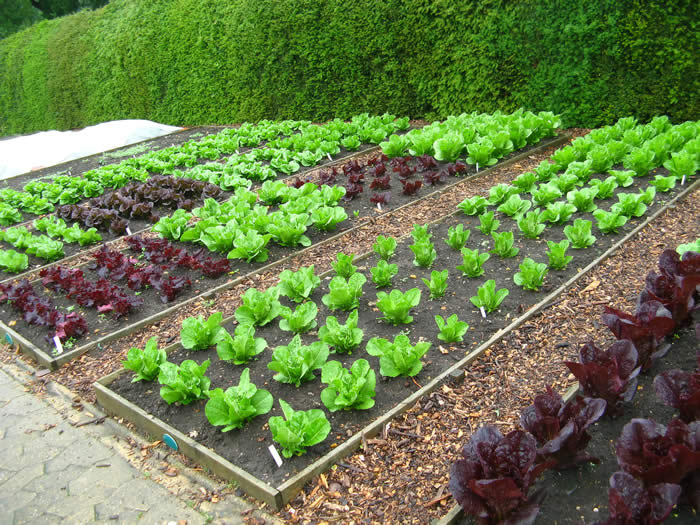 Potatoes:
If you have planted potatoes earlier on in the year earthing them up is a very important stage within the growing process. As soon as the potatoes break through you should begin earthing them up. This process simply involves drawing a mound of soil around the potato plant to avoid any new tubers turning green, if a tuber has turned green it has become poisonous and should be disregarded. You should earth up the soil with a garden rake or a hand fork along both side of the row of plants. This will ensure that you make a mound of soil along the entire row and therefore stopping the tubers from being exposed to any light. At this point you can add a garden compost to your potatoes this can help the growth of the potato plants. Potatoes generally are easy to please however they require plenty of water, don't be afraid to provide them with lots of water especially if we have had a dry spell. Remember do not be tempted to harvest potatoes until all the flower trusses are out.
Prepare for Summer Bedding:
The beautiful Spring flowering will be coming to an end towards the middle of May, this will require you to clean the bed of any plants in readiness for your summer bedding. You should begin by removing the Spring plants and forking through the soil. At this point it would be beneficial to add some fertiliser to your soil this will add any lost nutrients back into your soil and ensure it is healthy ready for the plants. May is the perfect time to start buying your flowers for your beds and borders. Again the frost will have an impact on whether you plant you flowers outside straight away however this gives you an opportunity to harden off your plants. You should start putting any flowers outside during the day and bringing them in again on a night time. This will help them acclimatise to the weather conditions and give them a better chance of survival when they are transplanted outdoors.  You should begin planting at the end of the month.
May is a very busy month as the garden comes to life, it is important to keep on top of maintenance. If you complete these gardening tasks you are in a good position for the Summer months.