June Gardening Jobs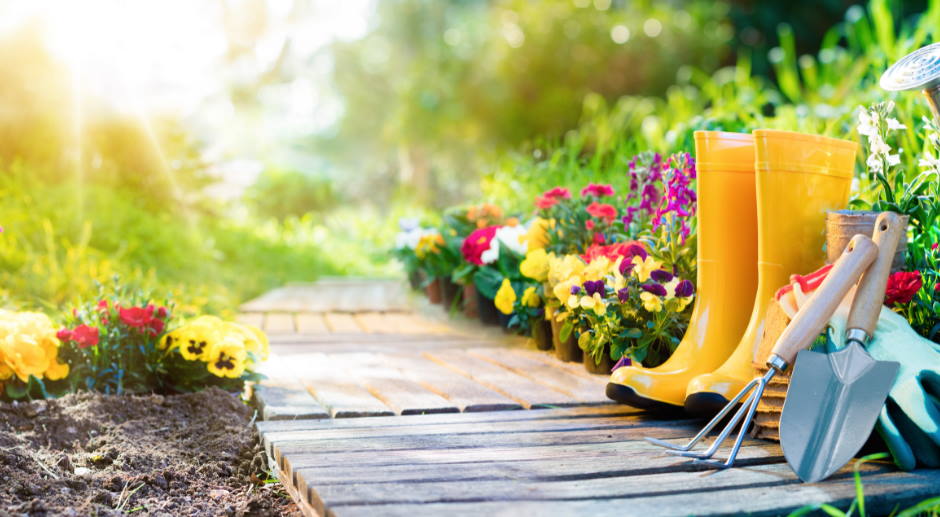 June is a very lively and exciting time in the garden and one that you must be fully prepared for to take full advantage of. With May fully behind us we hope to see the back of frosts and look forward to the temperature rising and longer, lighter nights. Regular input into your garden will ensure a consistent Summer display that remains beautiful throughout the season. The 21st June is the longest day of the year with the nights gradually getting shorter therefore we must take full opportunity of each day in June. Within this guide we highlight some of the major tasks that need carrying out throughout June.
Begin to plant your Summer bedding:
With your Spring bedding now cleared and your borders fully prepared for Summer you can begin to plant your Summer bedding. There is little chance of frost throughout June so your plants have the best possible chance of flowering. Your Summer bedding can be as creative as you like, you can opt for colourful eye catching plants that will offer a striking feature like busy lizzies, marigolds and petunias. You can also opt for flowers that will follow a consistent colour theme in your garden like yellow and orange in this case you should select specific plants that will create this look. We would advise a few hours prior to your planting that you soak the plants so they are able to thoroughly soak up the water. You should also water the area that you intend on planting the flowers. Many Summer plants have small roots and therefore are at a high risk of drying out in warm weather. If it is a hot day when you come to plant aim to plant either in the early morning or in the evening, you should always avoid planting during the peak time of the day.  Remember to select an area that receives a lot of sunlight. Some plants can survive in shaded areas but others require lots of natural sunlight. Don't forget once planted water regularly.

Keep an eye on tomato plants:
It is essential to regularly keep attending to your tomato plants, if you haven't already young tomato plants should now be planted outside. We would advise that to ensure you are directing the plants energy to the fruit growing on the main stem you should pinch off the side shoots from the plants. As tomato plants grow they can become very heavy, it is a good idea to tie up plants to wooden canes or any other form of support, this will also help guide the direction of growth. Ideally you should add the cane/supporter at the same time as planting this way you can avoid accidentally piercing the roots at a later stage. You will not need to start feeding your plants until the first truss has set. If you are growing your plants in a greenhouse this may already have happened, you should look to feed your plants with a specialised tomato feed this will help encourage growth and ripening.
Grow your own strawberries:
There is nothing sweeter than the taste of home grown British strawberries. Strawberries are also extremely easy to grow, if you were to buy strawberry plants now you are almost guaranteed an instant crop. You should look to plant your strawberries in a sunny spot that is well sheltered and moist. Monitor the areas in your garden that receive the most sunlight for the longest duration and begin to plant your strawberries here. You must ensure your soil is thoroughly dug and well drained, this is extremely important as if you were to plant the strawberries in a water logged area they will quickly attract mould diseases. When your strawberries begin to grow they can become heavy, this can cause them to droop on to the soil. Before this happens you should look to cover the soil with straw or plastic bags this will avoid them coming into contact with the soil. You should feed strawberries at least once a week once they have started to produce fruit.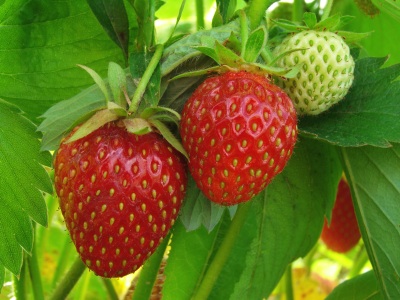 Begin harvesting salad and vegetables:
You should now be able to harvest your salad leaves that you have planted earlier on in the season. To ensure you get a regular supply of leaves you should look to pick from the outside of plants. We would suggest that you pick the leaves in the early morning when the leaves are fresh and crispy. You should continue to sow these plants along with other fast growing plants to ensure you receive a constant supply of fresh salad throughout the summer. Early potatoes may also be ready for harvesting this month, you should wait until the first flowers have opened before digging up. You should also continue to water the potatoes well to ensure your tubers are forming. If you have planted herbs earlier on in the season these should also be ready to harvest, we would advise that you pick them earlier on in the morning as opposed to midday. If you want the herbs as fresh as possible harvest on the day you intend to use them.
Finally:
There are also a number of small tasks which you need to keep on top of during the summer months. Mowing your lawn regularly is essential as your lawn will be in full growth during this period, regular mowing will make sure you lawn remains neat and tidy. If you have hedges in your garden these are likely to be ready for clipping, this will help keep them in shape and stimulate growth. You should also enjoy your garden throughout this month, flowers like roses will be coming into full bloom and will look beautiful in your garden design. All your hard work should finally be paying off as your garden is at its peak, we suggest that you relax, unwind and really appreciate your garden. If you have outdoor garden furniture this is the perfect opportunity to relish in the outdoors and enjoy outdoor dining.
At Gravelmaster we love receiving photographs from our customers of their garden. If you would like to send us a photograph of your garden which we will feature on our Facebook/Pinterest page please send the image to sales@gravelmaster.co.uk.