How to Lay Turf Perfectly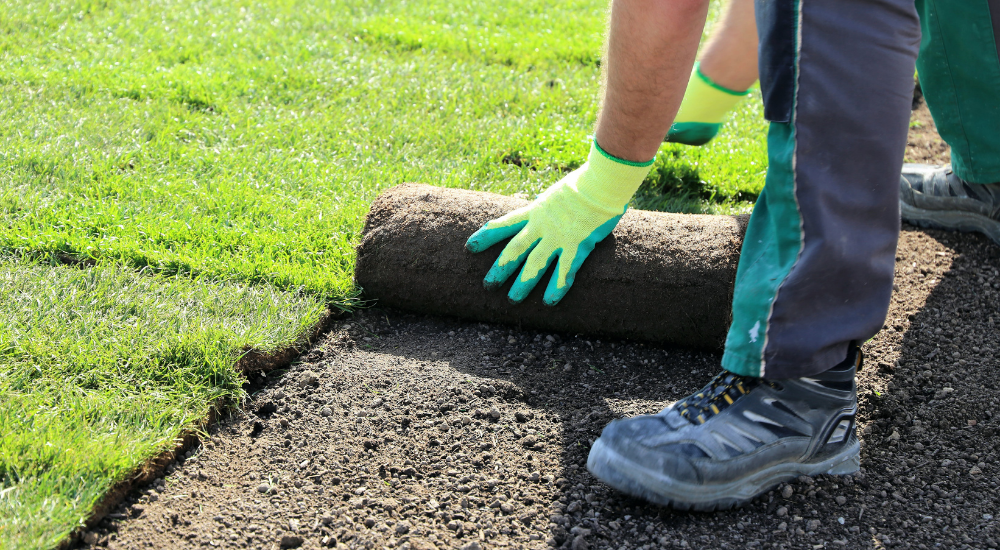 Why choose turf
Laying turf is the perfect method for achieving quick and professional results in your garden. If your garden is a subject to high traffic; such as pets, sports or outdoor play, turf is the perfect cost effective option for you. There are many benefits to using turf over artificial grass and seeding:
The Benefits of Turf
Durable
Absorbent
Replenishes air
Barrier to fire damage
Regulates temperature
Reduces noise
Once laid, turf can be walked on after 3 weeks, unlike seeding which takes around 6-8 weeks to be fully established.
When to Lay Turf?
Turf can be laid any season of the year providing the soil below is not frozen, immensely dry or waterlogged. We recommended laying turf between mid-autumn and late winter with the condition that the soil is not too wet or frosty. The autumn weather means little mowing and lower maintenance, so newly-laid turf can be left relatively undisturbed for several weeks. Turf laid in spring often needs watering and we recommended checking the soil if it hasn't rained, as it may be too dry. If this is the case, water the soil before laying your turf and avoid mowing in the first month to allow the roots to settle in the soil. If you have no choice but to lay your turf in the summer, it is important to make sure there is lots of moisture in the soil. Laying turf in the summer requires greater care due to the heat, it is important not to walk or use the grass for approximately 6-8 weeks whilst the turf is settling into the soil.
Our Guide to Laying Turf
At Gravel Master we like to make sure our customers get the most value from all our quality products, therefore we have written a step by step guide informing you on how to lay our turf correctly for best results. This guide tells you everything you need to know from the planning and preparation stage, right through to the aftercare of your lawn; we have also included some top tips along the way.
Tools for Laying Turf
Wheelbarrow
Rake
Knife
Spade
Planks
Garden Hose


Planning Stage
The weather is a significant contributing factor when it comes to laying your Gravel Master turf, we advise you to lay your turf in mild conditions. Do not lay turf in frosty weather and avoid leaving your turf outside for long periods time in hot weather before laying it. All of our turf is cut fresh on the day before delivery ensuring it arrives in the best condition possible. A few weeks before your turf arrives, the first step is to select a topsoil to lay the turf on. The topsoil you choose is extremely important and will assist you in achieving a high quality lawn once completed. The Gravel Master ProBlend Turfing Soil will act as a superb base for turfing and is designed to enhance turf strength and durability. To ensure the grass roots infiltrate equally, it is essential to evenly spread the topsoil.
Calculating How Much Turf and Topsoil You Require
To calculate how much topsoil you require you will need to measure the length, width and depth of the area you want to cover, then multiply these together to give you the volume you need, you can do this by using our topsoil calculator. At Gravel Master we supply our ProBlend Turfing Soil in volumes of 800 litres/0.5m3. You will then need to calculate the amount of turf required, all Gravel Master turf is supplied in standard m2 rolls. If you measure the length and width in meters and then times these together it will give you the amount in m2.
Soil Preparation
Before your turf arrives, you need to prep your soil ready for laying your new turf:
Eliminate perennial weeds such as couch grass or bindweed well before beginning to prepare the soil. Use weedkiller, or hand weed. Do not use residual weedkiller, as it can remain in the soil and will prevent the grass from establishing.
The site should be dug or rotovated to a depth of 20-25cm (8-10in).
Dig in some well-rotted manure or other organic matter (especially on a sandy soil) to hold moisture. Make sure it is well-rotted, as un-rotted organic matter will cause the soil surface to sink unevenly as it decays.
After cultivation leave for several days to settle - the longer the better, ideally five to six weeks or more, however this is not essential.
Before the next stage of preparation, remove any weeds that have germinated. Hand-removal is best, or use a contact weedkiller. Do not use a residual weedkiller, as it will prevent the grass from establishing.
To get the level surface that is crucial for the best lawns, tread the area several times in different directions and then rake several times also in different directions. Apply and rake in 70g per sq m (2oz per sq yd) of general purpose fertiliser
Once the topsoil is laid you should walk over the whole area to make sure it is well compacted, this will help create a solid structure for your turf. This process should be repeated until you have created a compacted and level base for your turf. This will minimise the risk of settlement which could cause the turf to sink and become uneven.


*Top Tip* use a ruler to make sure the topsoil is evenly spread and 10-15 cm deep for optimal results. Add more topsoil if required.
You must make sure your soil base is free of stones, pebbles and debris before laying your turf. All Gravel Master ProBlend Turfing Soils are peat free and have minimal stone content, making them perfect for the job. Once you have ensured the topsoil is compacted and at the right level, lightly rake it again, but be sure not to make the surface uneven. Having an even surface is a crucial part to the overall success of your finished lawn. If you put more effort you into creating a level surface, it increases the chances of greater, high quality results.
*Top Tip* Water the soil a few days before laying your Gravel Master turf, this will give moisture to the soil and allow it to settle.


Preparing the turf
If laying is delayed, then the turf should be laid out flat to avoid any discolouring and weakening, but where possible laying should be done within 24 hours of delivery. Gardeners sometimes need to lift turf themselves using a spade or €˜turfing iron€™ and then trim each turf to a regular size and depth. To do this, place the turf upside down in a prepared wooden box and slice off soil at the correct depth. The thinner the turf is (within reason) the better the rooting; a 2cm (¾in) turf roots better than a 7.5cm (3in) turf. Avoid turf that contains a lot of weed.
Before Laying the Turf
All of our turf is as fresh as possible when it arrives with our customers, so for best results it is critical that the turf is laid at the earliest opportunity once you receive it. In the event you are unable to lay the turf immediately ensure it is kept watered, damp and stored in the shade. Good seed bed preparation is the key to establishing a successful lawn. Pay particular attention to clearing weeds and cultivating the surface to a fine tilth.
How to Lay Turf
Begin at one side or one corner and work across so that the person laying the turf faces the bare soil.
Avoid foot indentations in the newly laid turf by laying a plank of wood on the completed strip and roll the next roll whilst stood on the plank so not to damage the freshly laid turf, repeat this process.
Stagger the joints as in the pattern of a brick wall and closely butted together avoiding gaps.
Avoid stretching the turf to the edges as this could potentially damage it, any gaps can easily be filled with soil.
Ensure the turf are level by having a bucket of sandy soil at hand and adding or removing soil as necessary.
Once all the turf has been laid it can be firmed lightly with a light roller or a home-made €˜tamper€™ consisting of a piece of flat wood attached at right angles to a broom handle.
When laying is complete, lightly spread a mixture of sand and soil or compost and work into the joints, using a rake or brush. This top-dressing fills any minor hollows and also helps the turf knit together and become established more quickly.
After top-dressing, leave the turf undisturbed; the first few days are critical for root development.
Where disturbed soil, such as old flower beds, are being turfed, the new turf should be laid slightly higher than the rest to prevent a hollow developing as the soil settles.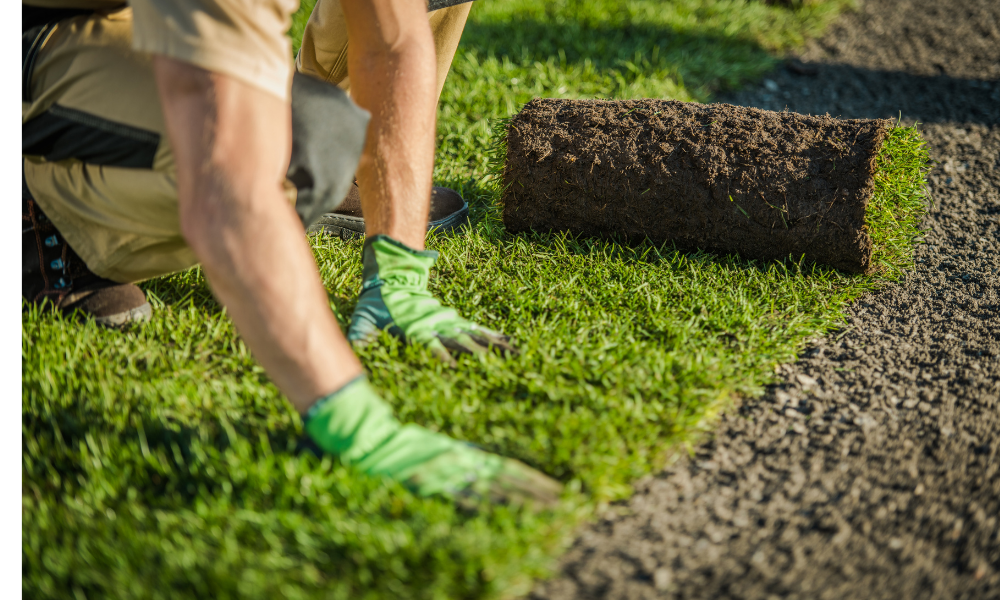 Directly After Laying Your Turf
You may think that the hard work is over however the process after your turf has been laid is the most crucial. Once completed, give your new lawn a thorough watering, this is essential. For the following week we recommend you water your lawn daily, this helps to establish a healthy lawn. We advise that you water the lawn either first thing in the morning or later on in the evening as this ensures less water is evaporated. On hot days take necessary precautions and water your lawn more frequently. You must also make sure that the water is reaching your soil, carefully lift up a corner of your turf to check.
3 Weeks After Laying Your Turf
You now need to mow your new lawn, this should be done after 3 weeks. Be careful when mowing not to take too much grass off, we recommend a third of the grass blade. Also be careful not to dislodge the lawn, if this does happens replace the lawn and do not commence mowing until the lawn has fully established.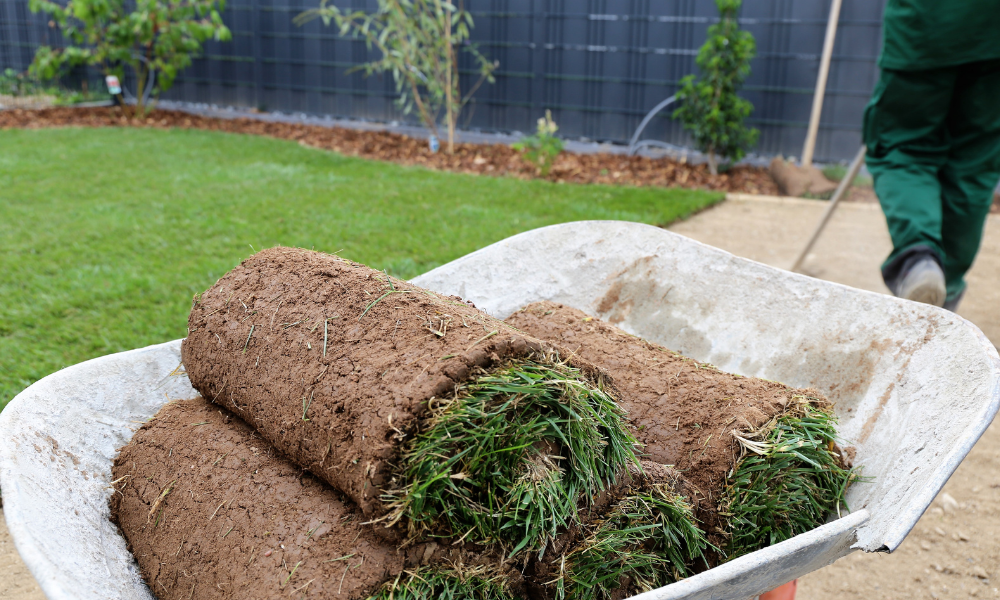 Aftercare
In dry weather, frequent watering may be necessary to keep the new turf constantly moist. During dry periods in mid- to late summer, water every five to 10 days. At other seasons water during dry periods every 14 days. Be careful not to over-water, as this can lead to shallow rooting and encourages the weed grass, annual meadow grass. Mow, with the blades set high, as soon as the grass has grown to about 5cm (2in). Now you have a beautiful lawn be sure to maintain it. Keep regularly mowing your lawn and be sure to water on a regular basis. To ensure your lawn is given sufficient nutrients we recommend a balanced fertilizer containing similar levels of Potash, Phosphate and Nitrogen, this should be applied every 4-6 weeks of the growing season. All fertilizers should be applied in strict adherence with manufactures recommendation giving special consideration not to exceed the stated dose. Head over to our website where you can read all our customer reviews on all our turf and topsoil products. Alternatively you can like us on Facebook where you can share your experiences with our fellow customers.
We hope this guide has been can help you in near or future projects, if it has please feel free to send us in photographs of your newly laid lawn which we will share on our Facebook
,

Twitter or Instagram. Remember to buy turf online at Gravel Master or call our Sales Team on 0330 058 5068